Description
China Rose Radish Microgreens (Raphanus sativus var. Longipinnatus 'China Rose') grow rapidly and can be harvested in about 5-7 days. These microgreens have beautiful pinkish red stems and deliciously flavorful green cotyledons. Adding these microgreens to salads and other dishes brings a delightful burst of refreshing and subtly piquant radish taste.
 Common Name: China Rose Radish

 Scientific Name: Raphanus sativus var. longipinnatus 'China Rose'.

 Other Names: Chinese Rose Winter Radish, Watermelon Radish, Red Meat Winter Radish

 Family Name: Brassicaceae

 Flavor: Mild Pungent, Piquant Flavor

 Seed Rate: 25g-30g per 10″ x 20″ tray

 Seeds Per in2: 0.125g-0.15g

 Avg. Yeild/1020 Tray: 275-345g

 Pre-Soak: No

 Weight Duration: 2-3 Days

 Germination Time: 2-3 Days

 Blackout Time: 1-2 Days

 Harvest Time: 5-7 Days

 Growing Difficulty: Easy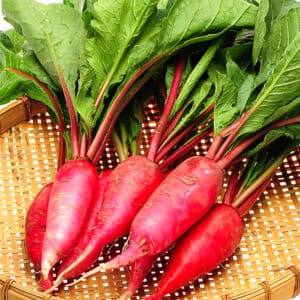 The China Rose Radish is native to China, Japan, and the western parts of Asia. It originated in China and quickly spread to Europe and the Mediterranean. This variety, introduced to Europe around 1850 by Jesuit missionaries, is one of the oldest types of heirloom radishes.
Plant Details &
Grow

Guide
Explore Additional

Microrgeen

Varieties