Description
Black Oil Sunflower (Helianthus annuus L.) microgreens are the easiest and all-time favorite specie amongst growers. They have large beautiful bold green cotyledons (embryonic leaves) and have a fresh crunchy nutty flavor. They're excellent on their own, in a salad, smoothies, soups, and as a garnish.
 Common Name: Black Oil Sunflower

 Scientific Name: Helianthus annuus L.

 Other Names: Common Sunflower

 Family Name: Asteraceae

 Flavor: Mild, Nutty Flavor

 Seed Rate: 125g-175g per 10″ x 20″ tray

 Seeds Per in2: 0.625g-0.875g

 Avg. Yeild/1020 Tray: 450-550g

 Pre-Soak: 1-4 Hours

 Weight Duration: 2-3 Days

 Germination Time: 2-3 Days

 Blackout Time: 1-2 Days

 Harvest Time: 7-10 Days

 Growing Difficulty: Easy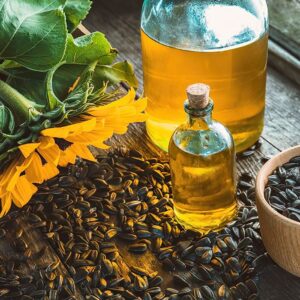 Black Oil Sunflowers are most commonly farmed for the production of sunflower oil due to their high-fat content. The oil is extracted by applying high hydraulic pressure to the seeds and collecting the oil.
Plant Details &
Grow

Guide
Check Out
These Other

Microgreens