Brassica oleracea

var.

italica
Description
Broccoli (Brassica oleracea var. italica) microgreens are a delightful addition to any dish, with fresh, tender, and vibrant green leaves that boast a subtle yet distinct broccoli flavor. Their tender texture adds a crisp crunch to any salad or sandwich, while their bright green color makes them an attractive garnish. With their versatile flavor and texture, broccoli microgreens are a must-try for any food lover.
 Common Name: Broccoli

 Scientific Name: Brassica oleracea var. italica

 Other Names: Calabrese, Sprouting Broccoli

 Family Name: Brassicaceae

 Flavor: Mild broccoli, Tart, Cabbage flavor

 Seed Rate: 20g-25g per 10″ x 20″ tray

 Seeds Per in2: 0.1g-0.125g

 Avg. Yeild/1020 Tray: 180-300g

 Pre-Soak: No

 Weight Duration: 2-3 Days

 Germination Time: 1-2 Days

 Blackout Time: 1-2 Days

 Harvest Time: 8-12 Days

 Growing Difficulty: Easy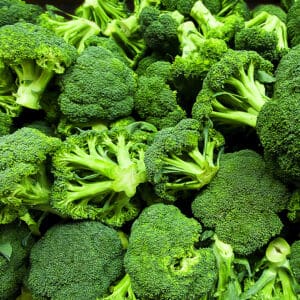 The United States ranks 3rd in the world for production of broccoli. India ranks 2nd and China is ranked 1st as the largest broccoli producer!
Plant Details &
Grow

Guide
Check Out
These Other

Microgreens