Description
Daikon Radish (Raphanus sativus L. var. longipinnatus) is one of the quicker-growing species, that can be harvested in only 6 days. They have bright cream-white stems and vibrant olive-green cotyledons. Just like regular radish, Daikon has a crunchy mild radish flavor, perfect for salads that need that extra punch of flavor.
 Common Name: Daikon Radish

 Scientific Name: Raphanus sativus L. var. longipinnatus

 Other Names: Japanese radish, White radish

 Family Name: Brassicaceae

 Flavor: Mild Pungent, Piquant Flavor

 Seed Rate: 25g-30g per 10″ x 20″ tray

 Seeds Per in2: 0.125g-0.15g

 Avg. Yeild/1020 Tray: 275-345g

 Pre-Soak: No

 Weight Duration: 2-3 Days

 Germination Time: 2-3 Days

 Blackout Time: 1-2 Days

 Harvest Time: 5-7 Days

 Growing Difficulty: Easy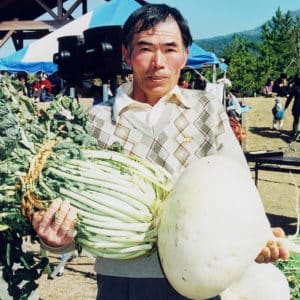 Manabu Oono (Japan) grew the world's heaviest radish weighing in at 31.1 kg (68 lb 9 oz) with a circumference of 119 cm (46.8 in). Manabu set the Guinness world record on 9 February 2003 at the Sakurajima Radish Contest, Kagoshima, Japan.
Plant Details &
Grow

Guide
Check Out
These Other

Microgreens