Description
Lemon basil microgreens (Ocimum × africanum Lour.) capture the essence of sun-ripened lemons in their delicate leaves. With their emerald green cotyledons and an enchanting lemony aroma, these microgreens not only enhance your dishes but also infuse them with a tangy touch. Whether incorporated into salads, brewed in teas, or used as a garnish, lemon basil microgreens bring a delightful brightness and zesty lemon flair to your culinary creations.
 Common Name: Lemon Basil

 Scientific Name: Ocimum × africanum

 Other Names: African basil, Hoary basil

 Family Name: Lamiaceae

 Flavor: Aromatic, Citrusy lemon notes

 Seed Rate: 15g-20g per 10″ x 20″ tray

 Seeds Per in2: 0.075g-0.1g

 Avg. Yeild/1020 Tray: 70-85g

 Pre-Soak: No

 Weight Duration: 3-4 Days

 Germination Time: 3-4 Days

 Blackout Time: 2-3 Days

 Harvest Time: 20-25 Days

 Growing Difficulty: Moderate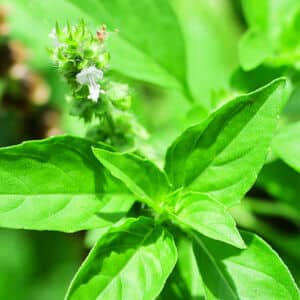 Lemon Basil Ocimum × africanum is a hybrid basil variety resulting from the crossbreeding of two basil species, Ocimum basilicum (sweet basil) and Ocimum americanum (African basil).
Plant Details &
Grow

Guide
Check Out
These Other

Microgreens