Description
Purple Kohlrabi (Brassica oleracea L. var. gongylodes L.) are super easy-to-grow, flavorful microgreens that make a fantastic base for any salad. The beautiful purple stems and bold green cotyledons (embryonic leaves) make them a perfect addition to any dish.
 Common Name: Purple Kohlrabi

 Scientific Name: Brassica oleracea L. var. gongylodes L.

 Other Names: German turnip, Knol-khol

 Family Name: Brassicaceae

 Flavor: Mild Cabbage, Broccoli Flavor

 Seed Rate: 20g-25g per 10″ x 20″ tray

 Seeds Per in2: 0.1g-0.125g

 Avg. Yeild/1020 Tray: 275-315g

 Pre-Soak: No

 Weight Duration: 2-3 Days

 Germination Time: 2-3 Days

 Blackout Time: 2-3 Days

 Harvest Time: 8-12 Days

 Growing Difficulty: Easy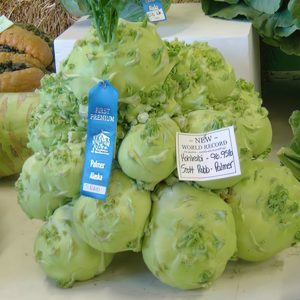 Scott Robb (USA) grew a world record-breaking kohlrabi, weighing in at 96.95 lb (43.98kg) at the Alaska State Fair, Palmer, Alaska, USA, on the 30th of August 2006.
Plant Details &
Grow

Guide
Check Out
These Other

Microgreens