Raphanus sativus cv. Sango
Description
Sango Radish Microgreens (Raphanus sativus cv. Sango) grow rapidly similar to other radish varieties and can be harvested in 5-7 days. Sango has gorgeous lavender pink stems and dark purple/avocado green cotyledons. They provide a delightful burst of refreshing and crunchy piquant radish taste and are perfect for any dish. So if you're in a rush to include some vegetables in your meals, Sango radishes are an excellent choice!
 Common Name: Sango Radish

 Scientific Name: Raphanus sativus cv. Sango


 Other Names: Purple Sango Radish, Purple Radish

 Family Name: Brassicaceae

 Flavor: Piquant, Mild Pungent

 Seed Rate: 25g-30g per 10″ x 20″ tray

 Seeds Per in2: 0.125g-0.15g

 Avg. Yeild/1020 Tray: 275-345g

 Pre-Soak: No

 Weight Duration: 2-3 Days

 Germination Time: 2-3 Days

 Blackout Time: 1-2 Days

 Harvest Time: 5-7 Days

 Growing Difficulty: Easy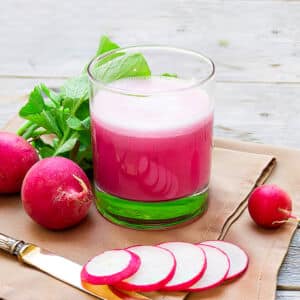 In a recent experiment, scientists examined the effects of Sango radish juice on overweight rats. The results revealed that when combined with a nutritious diet, the Sango radish juice aided in weight loss, enhanced cholesterol levels and strengthened the rats antioxidant defenses. The study suggests that Sango radish juice may offer a promising approach to combat obesity and improve overall health.
Plant Details &
Grow

Guide
Explore Additional

Microrgeen

Varieties